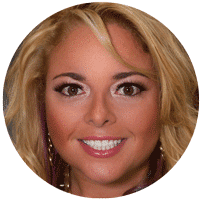 Dr. Melisande J Wolff, DMD
Dr. Melisande J. Wolff is a native of West Palm Beach. She attended the Palm Beach Day Academy in Palm Beach, where she is a "Lifer". She then earned her International Baccalaureate Degree at Suncoast High School in Riviera Beach. She went on to earn her B.S. in Economics at the Wharton School of Finance at the University of Pennsylvania. Following that, she earned her DMD at the University of Pennsylvania School of Dental Medicine where she held a national trustee position in organized dentistry with ASDA. Afterwards, she completed her residency at Newark Beth Israel Medical Center in Newark, NJ and practiced for several years in NJ before returning to her hometown of West Palm Beach, FL.
She has been practicing for over a decade and is past president of the Central Palm Beach County Dental Association. She is a Fellow of the Academy of General Dentistry (FAGD). A general dentist who is a "Fellow" in the Academy of General Dentistry (FAGD) has been recognized by other general dentists as a leader and exemplifies to other dentists the importance of quality continuing dental education.  To earn the FAGD, a dentist must complete a minimum of 500 C.E. hours, pass a rigorous comprehensive 8-hour exam, and be a Fellow of the AGD for at least 3 continuous years.
Dr. Wolff is also a Fellow of the Academy of Dentistry International. She participates in continuing education programs year round at the Atlantic Coast Dental Research Clinic, where she was voted on as the first ever female Director on the Board in 2013.
She has volunteered at the Community Health Dental Clinic and is always donating treatments to auctions that raise money for various charities.  She enjoys playing tennis and golf, traveling around the world (as she speaks six languages), going to the opera - in fact, she is the Concierge Dentist of the Palm Beach Opera. She is also the Bailli of the Palm Beach Chapter of the Confrérie de la Chaîne des Rôtisseurs.  She currently lives in West Palm Beach with her husband Claudio and their miniature poodle, Eper.
Our Philosophy
Our philosophy is Comprehensive Dental Care: to treat every patient as a whole person, not just a set of teeth. Dr. Melisande Wolff offers a unique, one-on-one dental experience as she takes the time to complete a thorough examination, educate you about your oral health status, and finally review risks and benefits of different types of treatments. She will always give you all the tools you need to make a truly informed decision about your dental health. Remember, you are in charge of your oral health!
We are a full-service dental office ready to help you create the healthy smile you deserve. Dr. Melisande Wolff and her staff are fully dedicated to giving you the most comprehensive & comfortable dental experience ever. Why would you trust your smile to anyone else?
What else separates us from others in our field? We value your time! We know it's stressful to miss work or school when you go to visit the dentist. That's why we are open after regular business hours and on Saturdays. We accommodate to your schedule, not the other way around.
Have a seat in our euro-mod decorated waiting area of Presidential Dental Center. You may enjoy a refreshing cold beverage or soothing herbal tea as you wait to enter the sanctuary.
The front office's cool lighting, clean lines, and elegant orchids allow for our patients to efficiently check-out, make payments and set-up their following appointments. And they always know that there is a special treat waiting for them upon check-out!
In the operatories, the sleek, shiny flooring, reflective back-splashes, stainless steel 3-D trim and "blinged" quartz counter-tops exude the most modern design aesthetic and are all custom designed and chosen by Dr. Wolff herself.
The ambient lighting, modern pendant lights, industrial chandeliers and LED color light therapy are meant to relax you once you lay back in the futuristic silver dental chairs.
The custom-designed dental units have the latest technology, including hands-free lights to prevent cross-contamination;  extra large size etched glass bowls that swivel, to make it more convenient for you to spit and rinse; lumbar, cervical and bolster memory foam cushions to make your time in the dental chair stress-free.
At Presidential Dental Center we use the latest instruments and technology to treat our patients with the greatest efficiency and care for their overall health. We use digital x-rays which are faster, easier to read and use 90% less radiation than traditional x-rays do. We use the intra-oral camera to allow our patients to view their oral health status from Dr. Wolff's point of view. This way they can better understand what they need to do in order to improve it. We offer air prophylaxis/air polishing to our patients and a choice of flavors to pick from.  It is quick, easy and the latest method of whitening and brightening the teeth significantly after a dental maintenance cleaning.
Each carefully selected individual design element of our office is mirrored in your dental care at Presidential Dental Center which is personalized for each individual patient. As no two smiles are alike, we ensure that yours will be as unique as you are!
Come and join the Presidential Dental Center family today and get the smile you deserve!
Remember a healthy smile is always in style!